Colony 5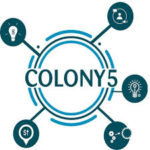 Short Business Description:
Colony 5 has selected a 1-mile corridor slated to become along 63rd street to grow into an innovation testbed in Chicago's Englewood neighborhood. The Civic Tech Challenge and Community "Array of Opportunity" Overlay are derived from past social venture collaborations with City of Chicago, Center for Neighborhood Technology, City of Chicago BCAP, World Business Chicago, the Array of Things Executive Oversight Committee, U.S. Census Bureau, the Illinois Green Buildings Council and a bevy of advisors and allies including community organizations, technologists, researchers, entrepreneurs and municipal leaders collaborating to connect the digital sciences and community development for social and economic impact.

We are smart community architects dedicated to placing a lens on the science and benefit of launching clusters of tech-enabled businesses into distressed retail corridors. We promote the education in and utilization of smart city infrastructures through information sessions, access, and connectivity to key resources focused on growing local economies. Colony 5 is collaborating across several key partnerships to include: Englewood Small Business Development Corporation (Englewood SBDC), the AoT Team, Chicago's Departments of Innovation and Technology, Planning and Development, and Rocket Wagon Enterprise IoT & Digital services, Chicago Beverage Systems, Reyes Holdings and Great Lakes Coca Cola.
Long Business Description:
Send Message to listing owner
Listing Title: Colony 5